Pay Your Dues &
Support CHNA
Pay by Check:
DUES: $60.00 / year

(July through June)
** For new Cumberland Hill residents, we offer pro-rated dues:
Paid in October-December: $50
Paid in January-March: $30
Paid in April-June: Pay the full $60 and it will be applied to next year's dues
Please make check payable to CHNA and send to:
CHNA
P.O. Box 24985,
Lexington, 40524
OR
Drop off this form (or anything with your information) and your check at our drop-box at the Clubhouse. It's located on the front porch, mounted on the wall next to the main door.
---
Email List
Please join the CHNA email list to receive news, updates and event information. Your information will never be distributed or sold. You can unsubscribe at any time.
---
Cumberland Hill Neighborhood Association does a lot to make our neighborhood a great place to live!
CHNA responsibilities include:
Landscaping / maintaining front entrance
Maintaining street signs
Insurance & utility costs
Holiday decorations for front entrance
Publishing Neighborhood Directory, Newsletter and Website
Sponsoring various social activities & events
Sponsoring a holiday decorating contest
Sponsoring neighborhood garage sales
Providing assistance and problem resolution
Formally opposing or seeking to modify city development plans which could adversely affect the neighborhood
Your dues make it all possible!
Pay With Venmo:
You can now pay your dues quickly and easily with Venmo.
Our handle is @CH40515 or scan our QR code with your Venmo app.
Send $60, and please include your names and street address in the notes section.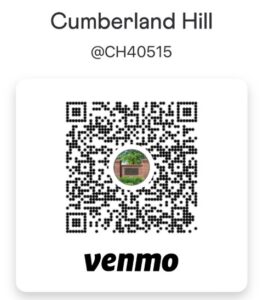 Pay Online – Credit Card or PayPal :
Please use the online form below if you are paying your dues with Venmo, a credit card, or PayPal.
You do NOT need a PayPal account to pay with a credit card.